Painting, Drawing and Mixed Media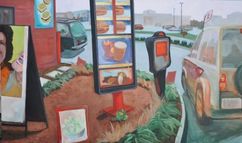 Instructor Laurie Blayney
Spot 5's Studio Painting and Drawing Classes are open enrollment classes where students can work in a variety of media - new students can join at any time. Instruction is tailored to the individual student's interests and level of skill. Because teaching occurs at the easel, beginners and more advanced students alike can work side by side. Studio classes are ideal for those who wish to enjoy the benefits of ongoing instruction while being part of an artistic community.

---
Painting/Drawing/Mixed Media

Tuesday
5:30 pm - 8:30 pm
Wednesday
11:00 - 2:00



Friday
12:30 pm - 3:30 pm
Saturday
11:00 am -1:00 pm 2 hour class



Students work in oil, acrylic watercolor, pastels, charcoal, colored pencil, graphite, ink or a mix of these. Teaching is done at the easel and students learn through 'hands-on' experience under the direction of the instructor. Because teaching is tailored to the individual student, studio classes are suitable for beginners and more advanced students alike.
Classes are on-going with rolling enrollment, you may join at any time.


---


Cost:
New students $260 / First 8 weeks
Beginning supplies provided
Returning students $130 / per month

---

Drawing Course
Tuesday
5:30-8:30 pm
Wednesday
11:00-2:00


New to our schedule this course follows college style curriculum. Students have assignments, learn elements and principles of drawing and are exposed to several types of drawing materials.

A Drawing Kit is included in this six week course to ensure that all students have the correct materials for the curriculum.

Cost: $195 for 6 weeks



---

---

Independent Studio
Tuesday 6:00-8:00

Independent Studio allows students free access to the painting studio for two hours on Tuesday nights (6:00- 8:00) and all open studio hours for non-instructional work.
It is a great option for those who require little or no instruction but would like access to a studio with an active arts community. Class is monitored by a painting instructor.
Cost: $60 / Monthly (4 classes)
Tuesday nights
6:-8:00pm
and open studio hours

---

---

Figure Drawing & Painting


The Figure: Drawing & Painting
Historical Approach:
Learning from the Masters
Instructor: Laurie Blayney

Starting in January 2015
Twice monthly on Sundays 2-5 PM
Here are the dates for each session:
January 11 - Stick figure to flesh. Degas
January 25 - Anatomy. Bone structure muscles. The Renaissance
February 8 - The Figure in Motion. Sargent, Duchamp, Boccioni
February 22 - Color and Light on the Figure. Toulouse-Lautrec.
March 8 - Abstracting the Human Form. Kandinsky, Picasso
March 22- People in Spaces Hopper

You may join at anytime, however class size is limited.
fees cover model fee and instruction

(Please arrive before 2:00 as a courtesy to other artists, the instructor, and the model).
This section of Figure Drawing will work from the inside out from human anatomy to figures in a setting.
Each class will feature an artist or group of artists that exemplify the point of view. We will explore realism to abstraction. The final class will be on composing your own figurative work. Each session will start with gesture drawing warm-ups, followed by a brief talk about an artist or art movement that will serve as the focus of that session. Some participants can receive more focused instruction and guidance while others will seek and receive a more hands-off approach.

Register now for a fresh creative bi-monthly experience that rejuvenates and inspires your other artistic pursuits. This unique class is user-friendly, built to be a tool for artistic growth and invites creative exchange of ideas. Come join us!

Please bring your own supplies (including paper, canvas, drawings implements, paints, inks, etc), and don't forget to stop by our own Clifton Art Supply if you need to stock up on some new materials (discount available to students) before each class begins.

Starts SUnday January11
Every other SUnday 2-5pm
$250 8 weeks
$130 4 weeks

---
---