Cartooning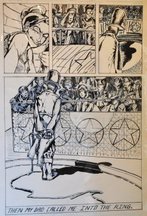 Instructor Jared Hulstine The art form of cartooning has roots that go deep in our culture. From the editorial cartoons of the early 1900's through the golden and silver age of comic books and Sunday comic strips to the graphic novels of today, the medium has a rich and creative history. And it's fun.

Students will practice universal artistic concepts such as proportion, perspective, value and line, while bringing their visions to life in the form of narrative art. And it's fun.

The class meets in six week sessions and there is open enrollment. You can join at any time. Some basic supplies are included, but you may want to purchase your own set of pens and some good drawing paper to continue your work outside of class.
Next Session: January/February 2013 (Depends on interest/registration)

Ages 10 and up
Fridays 4:00 - 6:00pm
Cost: $200 / 6 weeks.
---